---
ABOUT US:
Ofil develops and produces optical filters, sensors and imagers in the UV solar blind spectral range (240-280 nm), for various detection purposes at full daylight.
The fliters are characterized by a narrow transmission band (~20nm) and high out of bandpass rejection.
The sensors and imagers are characterized by a narrow response band and a high out of band attenuation.
Possible applications are:
detection of flares and flames, electrical corona, partial discharges and tracking of UV emitting sources.

Innovative aspects:


Ofil's technology for detection of weak UV emitting phenomena is now comercially available.
Ofil developed a Bispectral Visible-Solar Blind UV video imager, which can visualize UV emittance in full daylight with a visible image of the surrounding scene as background.

INTRODUCTION:
The Solar Blind UV Band:
In the UV solar blind (240 - 280nm) spectral range, no solar radiation reaches the surface of the earth. Radiation in this spectral band is absorbed by the ozone layer in the atmosphere. The main advantage of detection in the UV solar blind range is complete absence of background radiation. Weak UV signals in this band can therefore be imaged with high signal to background ratio.

Solar Blind Filter:
A solar blind filter for imaging weak UV emissions has to completely block the solar radiation and prevent it from reaching the imager. The output due to out of bandpass transmission must be of a level comparable to the dark noise level of the imager.

Corona Discharge Emission:
Corona discharges in air emit light mainly in the 230 - 405 nm range. The most intense emissions are the 317, 337, and 357 nm lines. These emission lines are however very weak relative to daytime background solar radiation. It is therefore not possible to use these emission lines to image corona during daytime, even when using narrow bandpass filters and applying background subtraction methods.
Although the corona emission in the solar blind range is much weaker than the UVb and UVa lines, by using a truly solar blind filter that totally blocks the background radiation outside the bandpass, UV images with high contrast can be obtained. This is due to complete absence of background radiation in the solar blind bandpass.
Applications & marketing
Ofil's solar blind filter technology opens the field of UV detection, under daylight or room illumination conditions, to a wide range of applications that have been held back by the lack of suitable filters & equipment. These applications include:

Inspection of high voltage transmission lines for corona & partial discharges
Detection of forest fire
Detection of fire in industrial installation
Missile plume detection
Monitoring Cherenkov light
MAIN PRODUCTS: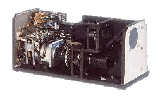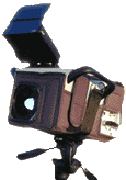 The DayCor cameras are designated for the use of electrical utilities worldwide, in order to cope with the corona phenomena on high voltage transmission lines. The cameras are also very efficient for Daytime Fire Detection, forest fire or industrial flames, Cherenkov light monitoring and other Solar blind Phenomenon's .

The DayCor Camera,"Daylight Corona Discharge Imager", detects and locates, at daytime, corona and partial discharges on HV transmission line insulators from distances up to hundred meters with excellent signal to background ratio.
Principle of operation: Overlay of a solar blind UV image of the corona on the visible image of the scene.
Core technology: Ofil's solar blind filter which totally blocks all solar radiation out of the UV solar blind bandpass.
Main advantage: High UV signal to background ratio due to complete blocking of the solar radiation in the UV solar blind image.
The DayCor camera takes advantage of Ofil's solar blind filter technology to detect corona light emission with no interference of solar radiation.



UV BANDPASS FILTERS:
UV solar blind filters are the core technology of Ofil. Filter characteristics can be customized for special requests.


Click here for more information about Ofil's filter specifications




SOLAR BLIND PMT SENSOR: SB-PMT

Complete rejection of solar radiation.

High UV Sensitivity.

Wide angular acceptance.

Can be used outdoors under direct sunlight.





SOLAR BLIND IMAGER: SBI - I


Truly solar blind - zero response when looking directly at the sun.

Single photon sensitivity.

Standard video output.
---
ENTREPRENEUR:
Dr. Malka Lindner - general manager.
Dr. Pinhas Lindner - chief chemist.

REQUIRED INVESTMENT & COOPERATION:
Strategic partners will be considered for production, marketing and further R&D.
Investment is required for further development and marketing.
---